Dec. 6, 2023
Lychee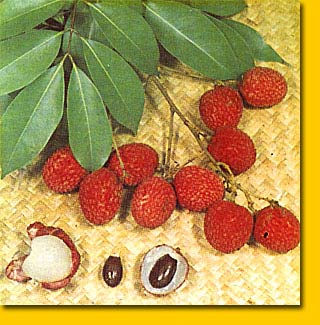 The lychee tree is handsome, dense, round-topped, slow-growing, 30 to 100 ft (9-30 m) high and equally broad. Its evergreen leaves, 5 to 8 in (12.5-20 cm) long, are pinnate, having 4 to 8 alternate, elliptic-oblong to lanceolate, abruptly pointed, leaflets, somewhat leathery, smooth, glossy, dark-green on the upper surface and grayish-green beneath, and 2 to 3 in (5-7.5 cm) long. The tiny petalless, greenish-white to yellowish flowers are borne in terminal clusters to 30 in (75 cm) long.
Showy fruits, in loose, pendent clusters of 2 to 30 are usually strawberry-red, sometimes rose, pinkish or amber, and some types tinged with green. Most are aromatic, oval, heart-shaped or nearly round, about 1 in (2.5 cm) wide and 1 1/2 in (4 cm) long; have a thin, leathery, rough or minutely warty skin, flexible and easily peeled when fresh.
Immediately beneath the skin of some varieties is a small amount of clear, delicious juice. The glossy, succulent, thick, translucent-white to grayish or pinkish fleshy aril which usually separates readily from the seed, suggests a large, luscious grape. The flavor of the flesh is subacid and distinctive.
There is much variation in the size and form of the seed. Normally, it is oblong, up to 3/4 in (20 mm) long, hard, with a shiny, dark-brown coat and is white internally. Through faulty pollination, many fruits have shrunken, only partially developed seeds (called "chicken tongue") and such fruits are prized because of the greater proportion of flesh. In a few days, the fruit naturally dehydrates, the skin turns brown and brittle and the flesh becomes dry, shriveled, dark-brown and raisin-like, richer and somewhat musky in flavor.
Because of the firmness of the shell of the dried fruits, they came to be nicknamed "lychee, or litchi, nuts" by the uninitiated and this erroneous name has led to much misunderstanding of the nature of this highly desirable fruit. It is definitely not a "nut", and the seed is inedible.
To contact us now, please
Click Here
.
For web page comments
and suggestions, please
Click Here
.