Sep. 22, 2023
Harvesting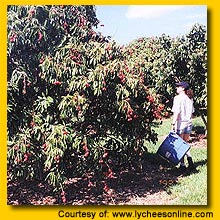 For home use or for local markets, lychees are harvested when fully colored; for shipment, when only partly colored. The final swelling of the fruit causes the protuberances on the skin to be less crowded and to slightly flatten out, thus an experienced picker will recognize the stage of full maturity. The fruits are rarely picked singly except for immediate eating out-of-hand, because the stem does not normally detach without breaking the skin and that causes the fruit to spoil quickly. The clusters are usually clipped with a portion of stem and a few leaves attached to prolong freshness. Individual fruits are later clipped from the cluster leaving a stub of stem attached. Harvesting may need to be done every 3 to 4 days over a period of 3-4 weeks. It is never done right after rain, as the wet fruit is very perishable. The lychee tree is not very suitable for the use of ladders. High clusters are usually harvested by metal or bamboo pruning poles. A worker can harvest 55 lbs (25 kg) of fruits per hour.
Yield
The yield varies with the cultivar, age, weather, presence of pollinators, and cultural practices. In India, a 5-year-old tree may produce 500 fruits, a 20-year-old tree 4,000 to 5,000 fruits-160 to 330 lbs (72.5-149.6 kg). Exceptional trees have borne 1,000 lbs (455 kg) of fruit per year. One tree in Florida has borne 1,200 lbs (544 kg). In China, there are reports of 1,500 lb crops (680 kg). In South Africa, trees 25 years old have averaged 600 lbs (272 kg) each in good years; and an average yield per acre is approximately 10,000 lbs annually (roughly equivalent to 10,000 kg per hectare).
Keeping Quality, Storage and Shipping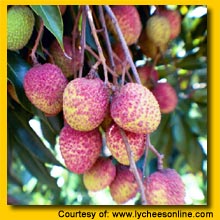 Freshly picked lychees keep their color and quality only 3 to 5 days at room temperature. If pre-treated with 0.5% copper sulphate solution and kept in perforated polyethylene bags, they will remain fresh somewhat longer.
Fresh fruits, picked individually by snapping the stems and later de-stemmed during grading, and packed in shallow, ventilated cartons with shredded-paper cushioning, have been successfully shipped by air from Florida to markets throughout the United States and also to Canada. In South Africa, freshly picked lychees have been placed on trays in ventilated sheds, dusted with sulphur and left overnight, and then allowed to "wilt" in lugs for 24 to 48 hours to permit any infested or injured fruits to become conspicuous before grading and packing. It is said that fruits so treated retain their fresh color and are unaffected by fungi or pests for several weeks.
To contact us now, please
Click Here
.
For web page comments
and suggestions, please
Click Here
.